An eyeglass prescription is a prescription written by a vision professional and authorizes a licensed optician to provide eyeglasses to you.  An eyeglass prescription can be issued only by an optometrist or a physician, who may be an ophthalmologist.  In Ontario, only optometrists, physicians and opticians are authorized to sell prescription eyeglasses. If the eye exam indicates that corrective lenses are necessary, the prescriber generally writes a prescription for an optical device. The parameters indicated on the prescription include the dioptric power of each lens to be made in order to correct the visual blur.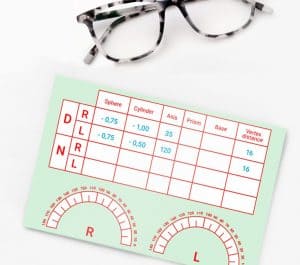 The prescription you are provided with by the optometrist is based on the information retrieved from your eye examination. In order to accurately determine how your vision can be corrected, the optometrist will consider:
your overall health history, family history and your day to day visual demands
how your eyes work together
the general health of your eyes
the lenses required for you to achieve the best vision and focus
Prescriptions given after an eye examination may vary from time to time depending on the measurements taken by the optometrist. Minor variations in the prescription are normal and may not affect the way you see.